Christmas is arriving soon and the time has come to think about the festive shopping. There are a lot of Christmas markets around the world and each is unique in its way. It is not that easy to settle down with a marketplace saying that it is the best. The same goes with Zurich Markets in Europe. If you are a resident of Europe and haven't visited Zurich Christmas Market yet, you are missing out on a lot. This Christmas visit the Zurich Market and explore what all it has to offer.
Of all the wonderful Christmas markets around the world, Zurich Christmas Market takes all the limelight with its beautiful lighting, stalls packed with great collections of gifts and decoratives, mouth-watering foods, elegant wonders, attractive destinations, and much more. Zurich is a lovely place to be during Christmas time. If you want to pay a visit to this beautiful city this Christmas Eve, you have to first know about the popular markets, their timings, dates, what is available there, locations, etc.
Where Exactly is Zurich Located?
Zurich city is located in North-Central Switzerland and is the financial center of the city. It is one of the cleanest and wealthiest cities in the world with wonderful shopping. If you are planning to visit Zurich for Christmas shopping and want to know about the different popular markets as well as their timings and locations, you can simply check that with us here. We have listed every single detail about the Zurich Christmas Market here.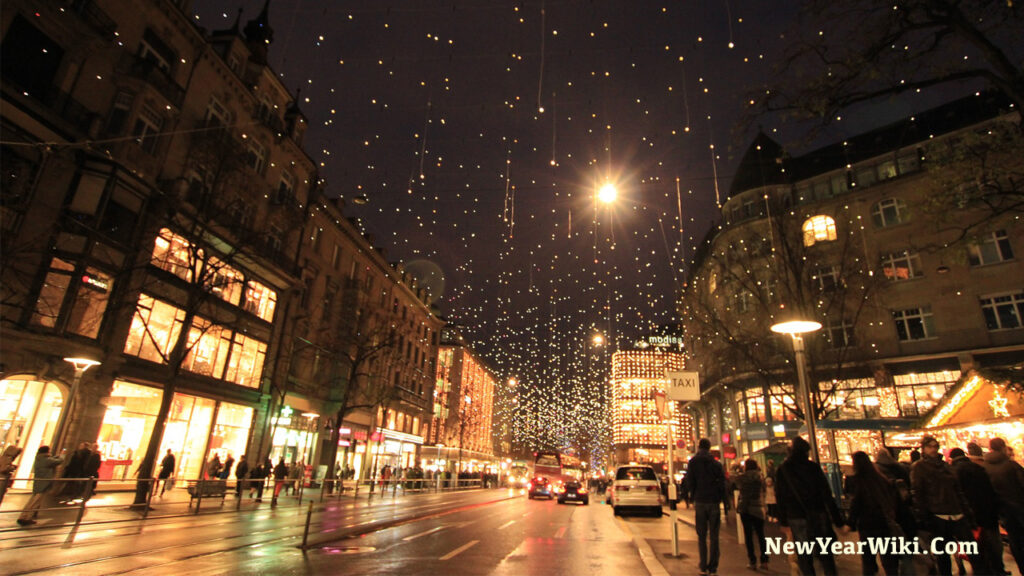 Zurich Christmas Market 2024 Guide
Zurich is one of the most popular Christmas shopping destinations in Europe and it is all thanks to its attractions, activities, and shopping. The city is the heart of four popular shopping destinations and each marketplace is unique in its way. The four Zurich Christmas markets are:
Niederdorf Christmas Market – Old Town
Wienachtsdorf Market – Urban Christmas Village
Werdmuhleplatz Christmas Market
Christkindlimarkt – Zurich Train Station
Let us take a look at each of the Zurich Christmas Market 2024, their specialty, timings, locations, etc.
1. NIEDERDORF'S DORFLI CHRISTMAS MARKET
Niederdorf's Dorfli Christmas Market is one of the most famous markets in Europe visited by tons of shoppers every year.
The market is likely to be held from Nov 24 – Dec 23, 2024. 
The market operates from 11 AM to 9 PM from Monday to Saturday and on Sunday, it will be open from 11 AM to 7 PM.
The market is located in Weihnachtsmarkt in Niederdorf, Niederdorfstrasse, 8001 Zurich.
Dorf is the oldest market in Zurich and is located in the Niederdorf old town. The marketplace is famous for its stalls, street food, festive lights, decorations, gifts, goodies, etc. You can grab everything from this marketplace at the best offers and will love the shopping here. The Christmas market stalls are stalled near the River Limmat and Frauminster Church and it is a breathtaking view for the visitors there. 
Other than the stall and shopping, you can also view attractions over there and even ride a boat on the river. The specialty of this place is that every year an event called "Samichlausschwimmen" is the river in December where 300 people dressed like Santa swim in the river to raise funds.
2. WIENACHTSDORF MARKET
Wienachtsdorf Market is yet another popular Christmas Market in Zurich. People visit this place to shop and witness the beauty around the market.
The Wienachtsdorf Market will be held from Nov 25 to Dec 23, 2024.
The market will be open starting from 11 am – 10 pm from Mon-Sat and 11 am – 8 pm on Sunday.
The market is located in Wienachtsdorf, Sechseläutenplatz, 8001 Zürich.
The Wienachtsdorf Market is located in the urban Christmas village close to Lake Zurich. The village hosts around 100 stalls which are filled with decoratives, food items, crafts, and a lot more. The place also houses an ice rink for children to skate. Visitors can also taste the yummy swiss foods on the streets. A musical countdown to Christmas eve is held at the Opera House every day at 5:30 PM. The event organizers announce the program details and timing on their Facebook page.
3. WEIHNACHTSMÄRT CHRISTMAS MARKET
Weihnachtsmärt Christmas Market is also a popular market held in Weihnachtsmärt during the Christmas season. People visit this place in huge numbers and make great memories there.
The Weihnachtsmärt Market will be held from Nov 25 to Dec 24, 2024.
The opening timings of the market are like this:
Monday to Thursday 4.00 pm – 9.00 pm
Friday 4.00 pm – 10.00 pm
Saturday 1.00 pm – 10.00 pm
Sunday 1.00 pm – 9.00 pm
The Zurich Weihnachtsmärt Christmas market is located in Am Neumarkt, Altstadt, 8400 Winterthur, Switzerland.
Many surprises are awaiting you here and the singing Christmas tree is one among them which is located in Bahnhofstrasse. You can take the train from the Zurich railway station subway to reach this place. You can find beautiful lights all over the place called 'Lucy'. The lights are surrounded by crystals that look like stars when lit. The Weihnachtsmart Christmas Market is located in Lower Bahnhofstrasse.
Another notable thing about this place is that it has a Singing Christmas Tree. If you are a foodie, you will tease your tastebuds with tasty swiss comfort food from the streets.
4. CHRISTKINDLIMARKT CHRISTMAS MARKET
Christkindlimarkt Zurich Hauptbahnhof Christmas Market is the last, but not the least popular Christmas market on our list. Similar to the other Christmas markets, this market is also packed with many surprises. If you want to visit this place and want to know When Do Christmas Markets Start In Zurich, check the below details.
The Christkindlimarkt Hauptbahnhof Christmas Market Market will be held from Nov 19 to Dec 24, 2024.
The opening hours of the market will be from 10:30 am – 9 pm from Sun-Wed and 10:30 am – 10 pm from Thu-Sat.
The market is located in Christkindlimarkt, Hauptbahnhof Zürich, 8001 Zürich.
Christkindlimarkt is an indoor Christmas market in Europe with a huge lobby. The highlight of this market is the 32-feet Swarovski Christmas tree. The tree looks amazing from the train with sparkling crystals all over it. The stalls in the market are decked up with festive decoratives, foods, accessories, and a lot of other stuff. You can also find wonderful gifts made in Zurich here.
Other than these four most popular Christmas markets, Illuminarium is also the most-visited Christmas market in Zurich. Everything about this place is magical from lights to music to illusions to culinary. You can get your hands on winter snacks in the stalls there.  
How to Reach Zurich?
If you want to fly to Zurich, you can land at Zurich international airport and from there travel to these local Christmas markets by train. The train station is situated in the center of the city and so it is very easy to commute to other places. If you want to fly to Zurich this Christmas season, you can do so on a budget by taking public transport in the city. You can also go for a luxury option if you want by staying in star hotels with great accommodations.
This is all about the Zurich Christmas Market Guide. This Christmas, make time and visit these lovely markets with your family and have great fun. For more updates regarding the dates and timings of these events held in Zurich, you can check our website NewYearWiki.