New Year is all set to ring in soon and will bring lots and lots of new and exciting things with it. It brings tons of aspirations with it for the rest of the year. Gone year may be a mixed bag with both good and bad things happened, but let us wish that the coming New Year is as good as a year can be. Today, we are here with New Year Bible Verses that will help you attain hope while welcoming new year.
Happy New Year Bible Verses
It is a good idea to walk in the path of the almighty rather than taking our own paths just to play the blame game in the end.  The God words are very inspiring and motivating and one can get hope on reading them. Especially on the occasion of the New Year, it is mandatory to think about the God and also recite the verses he gave us through the spiritual dictionary called Bible.  There are many Bible Verses for The New Year 2024 that we have collected for you.  You can check them here.
We have to pray to the almighty that the coming days in the new year are better than before. We have to seek that strength to face the hurdles if any in our way. We should have that positive outlook towards life in order to move on with great ease. Read one new year bible verse a day until the new year eve to bring the much needed change in yourself. It will be a good habit to follow in order to see that much-needed change in yourself.
Bible verses for new year are aimed at creating awareness in the peers in all aspects. If you want to kick start this coming new year with great positivity and strength then these happy new year bible verse will assist you in achieving that.
Other than that of various verses in the bible, there are verses that are especially jotted down on the new year. Bible verses about new year will make your new year most indelible and will lead you in the right path. These verses can also be shared online by you with your friends and dear ones on the occasion of the new year. They can not only help them attain knowledge and strength, but also gives them the hope to look clearer even in the dim light.
Look to the Lord and his strength; seek his face always. Remember the wonders he has done, his miracles, and the judgments he pronounced. – 1 Chronicles 16:11-12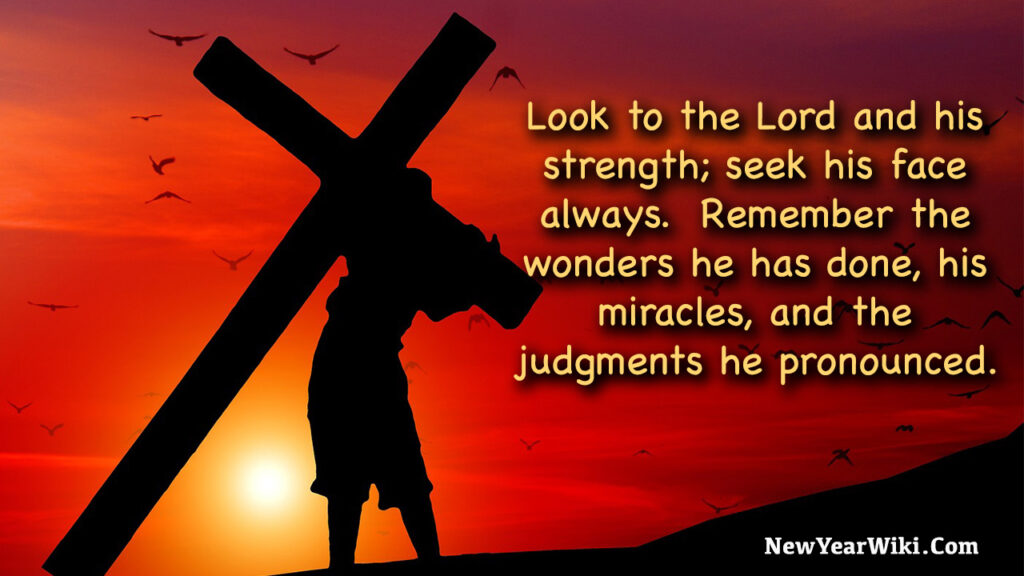 Praise be to the God and Father of our Lord Jesus Christ! In his great mercy he has given us new birth into a living hope through the resurrection of Jesus Christ from the dead. – 1 Peter 1:3, NIV
But those who hope in the Lord will renew their strength. They will soar on wings like eagles; they will run and not grow weary, they will walk and not be faint. – Isaiah 40:31
Brothers and sisters, I do not consider myself yet to have taken hold of it. But one thing I do: Forgetting what is behind and straining toward what is ahead, 14 I press on toward the goal to win the prize for which God has called me heavenward in Christ Jesus. – Philippians 3:13-14
For I know the thoughts that I think toward you, says the LORD, thoughts of peace and not of evil, to give you a future and a hope. – Jeremiah 29:11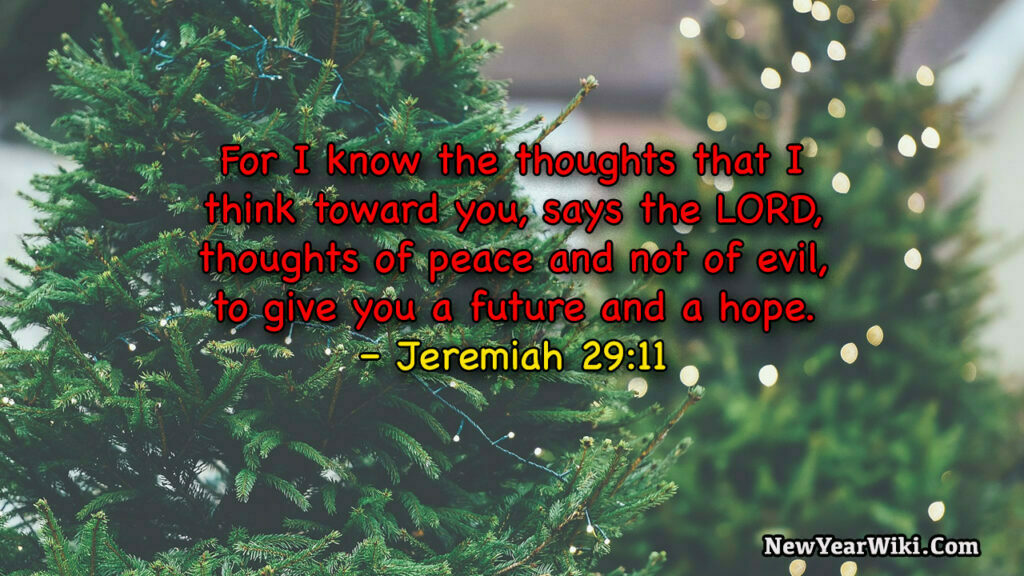 You crown the year with your goodness and your paths drip with abundance. -Psalm 65:11 (NKJV)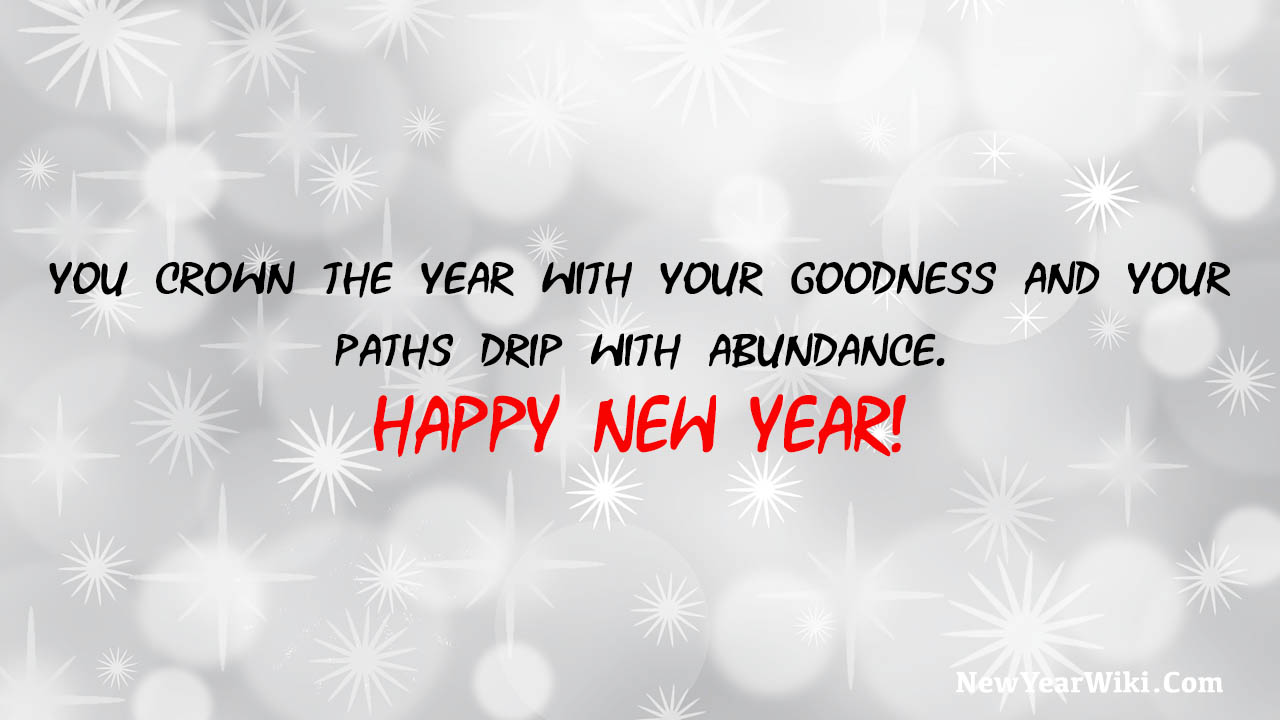 And let us consider how to stir up one another to love and good works, not neglecting to meet together, as is the habit of some, but encouraging one another, and all the more as you see the Day drawing near. – Hebrews 10:24-25
Fear not, for behold, I bring you good news of great joy that will be for all the people. For unto you is born this day in the city of David a Savior, who is Christ the Lord. – Luke 2:10-11 (ESV)
Enter his gates with thanksgiving and his courts with praise; give thanks to him and praise his name. – Psalm 100:4 (NIV)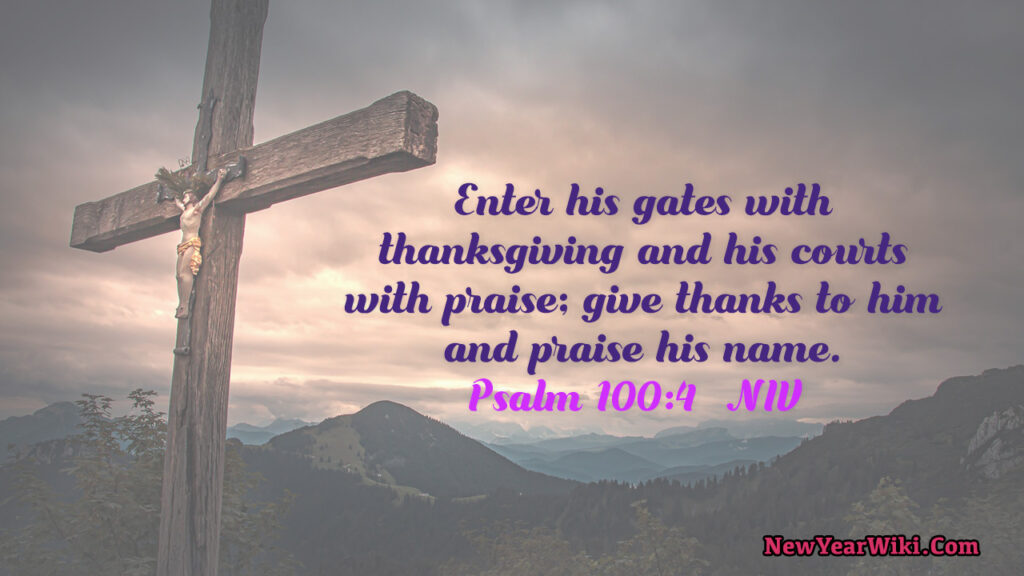 In the eleventh year, in the month of Bul, which is the eighth month, the house was finished throughout all its parts and according to all its plans. So he was seven years in building it. – 1 Kings 6:38
Trust in the Lord with all your heart, and do not rely on your own understanding; think about Him in all your ways, and He will guide you on the right paths. – Proverbs 3:5-6 (HCSB)
For I know the plans I have for you, says the Lord, plans for welfare and not for evil, to give you a future and a hope. – Jeremiah 29:11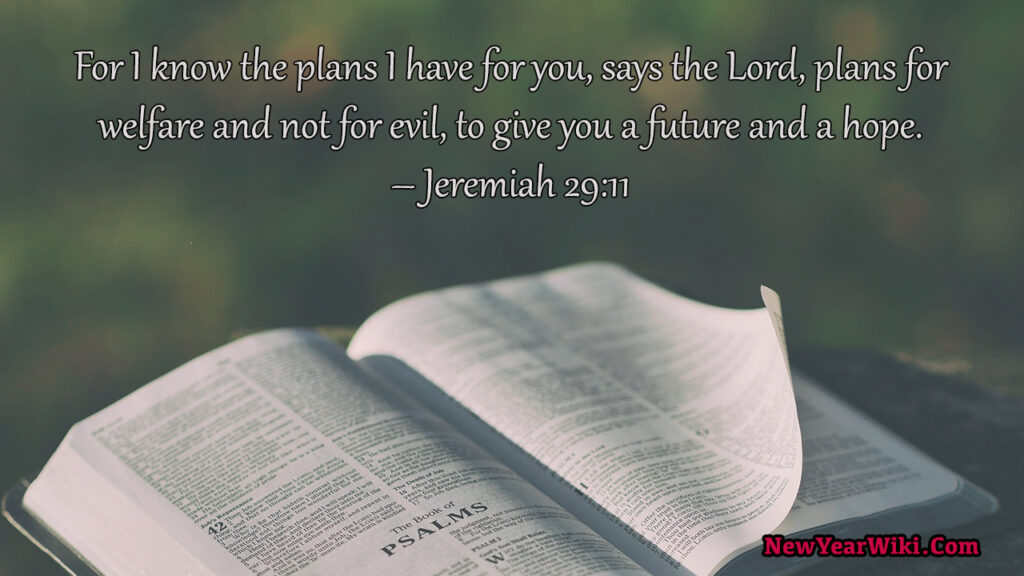 Because of the Lord's great love we are not consumed, for his compassions never fail. They are new every morning; great is your faithfulness. I say to myself, "The Lord is my portion; therefore I will wait for him. – Lamentations 3: 22-24
You are the light of the world. A city on a hill cannot be hidden. Neither do people light a lamp and put it under a bowl. Instead they put it on its stand, and it gives light to everyone in the house. In the same way, let your light shine before men, that they may see your good deeds and praise your Father in heaven. – Matthew 5:14-16
Therefore, if anyone is in Christ, he is a new creation; old things have passed away; behold, all things have become new. – 2 Corinthians 5:17, NKJV
Forget the former things; do not dwell on the past See, I am doing a new thing! Now it springs up; do you not perceive it? I am making a way in the wilderness and streams in the wasteland. Happy New Year. – Isaiah 43:18-19
What good will it be for someone to gain the whole world, yet forfeit their soul? Or what can anyone give in exchange for their soul? For the Son of Man is going to come in his Father's glory with his angels, and then he will. – Matthew 16:26- 27
Sing to the Lord a new song; sing to the Lord, all the earth. Sing to the Lord, praise his name; proclaim his salvation day after day. Declare his glory among the nations, his marvelous deeds among all peoples. – Psalm 96: 1-3
Hope the New Year Bible Verses 2024 that we have shared here are of your liking.  If you have any favorite verses of your own, feel free to share them with us. Bookmark our website NewYearWiki to get more updates.