New Year is a big celebration in every house and entire family comes together to make it a momentous day. We are slowly advancing towards the New Year and most of your minds must be chattering on what to do on the Eve to make everyone present feel prosperous and filled. We usually have heavy dinners, parties, chatting etc etc with our family members. But to make it more exciting you can play games. Yes! We can actually play games with our entire kin to make it a gladsome New Year. If you are wondering what games to play then we have here New Year's Eve Games For Family for you. You can go through the list of games that we have compiled and pick the games that you want to play with your family on the Eve.
New Year's Eve Games For Family
New Year is all about merry making and spending quality time with the family. Family holds a special place in everyone's life and it is significant that we spend good time with them at least on days like New Year. Recollecting the good old memories sitting together with your family is such a blissful thing to imagine. If you are throwing a party to your entire kin then to make the party most engrossing ever you have to play games. You need not go out to play; you can absolutely sit at your comfort in your favorite couch and play games. Games bring sportive spirit in everyone. So, playing games on the Eve is definitely a good start.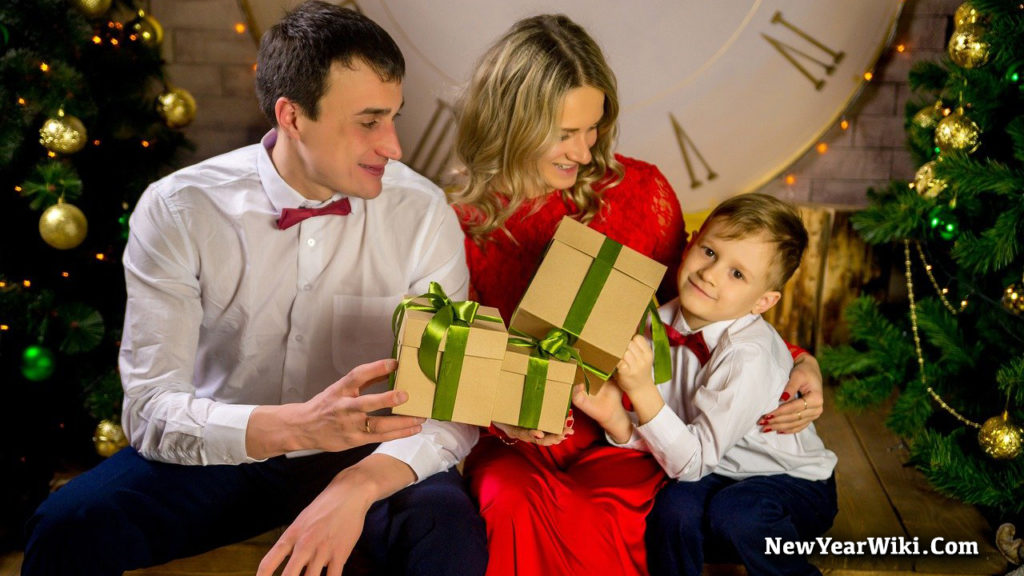 The New Year Games For Family that we are going to present here will surely make your New Year' Eve party a super hit. So, why late! Go dive in.
1. Gargle a Song
The very first and super fun game in our list is Gargle a song. You no need to be a good singer to play this game, even bathroom singer is good enough to play this game wonderfully. It is a kind of guessing game where one player will have to sing a song with mouth full of water and the others have to guess which song was it. It will be quite fun for both players and the guessers. This game will surely tickly your funny bones.
2. My Grandmother went to the Market and Bought Game 
This game is about remembering and reciting. If you are someone with good memory then this game is just for you. The first player will start the game by saying a word and the next player adds another new word to it. The players have to take turns and repeat the first word along with the words said by the previous players. This game can be played in alphabetical order as well i.e., saying the words in alphabetical order and repeating them.
3. Pass the Hat
You no need to do great investment on this game. All you will need is a New Year's Hat. Make all your family members to sit in a circle and ask them to pass the hat from one head to another without involving hands. The player who drops the hat in an attempt to pass it will be out of the game. The last player left in the game without dropping will be the winner.
4. Party Bag
This is another interesting New Year Party Games For Family. You will need a bag and sweets. Fill a bag with mouth-watering sweets and hang it to the door. Blindfold the player and ask them to hit the bag with the help of a stick. The player who hits the bag emerges the winner and also gets all the sweets. You can cheer the players who have blindfolded and been searching for the bag to hit.
5. 2 Truths and a Lie
As the name suggests, the player has to tell 2 truths and one lie as a part of the game. But they should be genuine. The other players have to guess or find out which statement is false among the three said statements. It will be quite exciting to guess the truth and false.
6. Sardines 
Sardines is yet another wonderful game to play. But instead of sitting and playing, this game involves little hiding and running. At first one person hides and the person who finds him has to join him and the game continues. The last player left is the sardine. It will be super fun playing this game than just reading it here. 
7. Ribbon Dancing 
We still have many New Years Eve Family Games Ideas that we would like to share with you. This Ribbon Dancing game is one among them. Take a ribbon cut into three-foot lengths and give them one to each pair. Hold the middle of the ribbons and ask the players to hold the end of the ribbon. The two players holding the ends of the same ribbon will have to dance as partners. It will be very exciting to see different pairs tapping their foot on the floor at the midnight of the Eve.
8. Shout It
This is a perfect game to play with the family. Shout it is played in 4 levels and can be played in two ways. This game requires minimum of 2 players and a maximum of 10+ players. You will need printable cards to play this game. The player is shown the picture and he/she shouts a word with the same letter as the picture shown in the card. If the player says it right, he owns the card. Up on finishing the level the player with most cards will be the winner. 
These are the New Year's Eve Games For Family that you can play on the Eve night with your entire family. We are sure these games will leave great memories for your family that last forever. If you like our game ideas then don't forget to bookmark our website – NEWYEARWIKI.COM and also stay tuned to read more fun stuff.